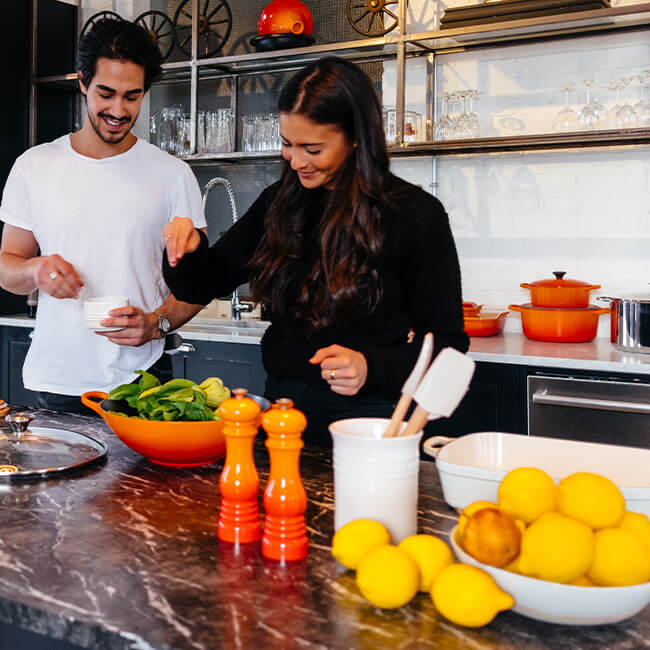 5 popular Indian kitchen hacks to help make your cooking easier!
aloo gobhi, aloo sabji, aloo tikki, amla, amla powder, asafoetida, Australia, baisakhi, baking, beautiful hair, beauty, beverages, biryani, Black beans, black pepper, Black-eyed peas, butter naan, camphor, cardamom, chaat, Chicken, Chicken 65, chicken tikka masala, Chickpeas, chilli, cinnamon, cloves, Cooking, copper jugs, coriander seeds, cumin, curry, Dal, dhokla, digestives, dosa, fast food, fasting, fenugreek, Festival, garlic, ginger, gosht, Green peas, green tea, Groceries, Gulab Jamun, hair, hair care, hair colour, hair hacks, hair loss, haldi, haleem, Halwa, health, healthy living, heena, home, home decor, Home Food, honey, ice cream, idli, india, Indian Cuisines, indian dish, Indian Food, Indian Spices, indian street food, Indian Sweet, iron pan, italian food, jaggery, jalebi, jeera, jugs, kheer, Kidney beans, kitchen, kitchen hacks, lentils, lifestyle, Lima beans, makhana, makki ki roti, mango pickle, masala tea, mehendi, methi, millet, millet flour, MTR Foods, mustard seeds, mutton, natural digestives, Navratri, Navy beans, nihari, organic, pakistani dish, pakistani spices, pancakes, Paneer Makhani, pani puri, papad, pasta, Peanuts, pickle, pudding, Rakhi, Rakshabandhan, rava kesari, ready to eat, rice, saffron, sambar, samosa, Samosas, sarson ka saag, sauce, scalp, soup, soups, soups and sauces, south indian dish, Spices, steel utnesils, stew, street food, Sweet Dish, syrup, tea, tomato pickle, Toor Dal, turmeric, uttapam, water

22 Sep, 2022
If you're new to cooking Indian food, the kitchen might be an intimidating place at first! After all, Indian cuisine has a wide variety of ingredients, most of which you probably aren't familiar with. The truth is, though, that once you learn some basic techniques, Indian cuisine isn't that hard to make at home. We have some fantastic kitchen hacks and cooking tips in this article to help you along your journey! We know it can seem daunting, but don't worry – the only way to learn how to cook great Indian food is to just get started!
1. Baking Soda
Baking Soda is a simple yet powerful ingredient that is often overlooked for its many uses in the kitchen. Baking soda's main use is for rising dough and giving food a leavening effect. Baking soda, which is also referred to as sodium bicarbonate, provides gentle but effective chemical leavening. It can be used on nearly every type of food from cakes and pancakes to vegetables like broccoli and green beans. A common use of baking soda is as an egg substitute for vegan recipes or if one does not want to consume eggs. To do this simply mix a teaspoonful of baking soda with two teaspoons of white vinegar or lemon juice and whisk until it foams up. Add the mixture to whatever recipe you are making with eggs- such as pancakes, muffins, or even scrambled eggs- and give it another whisk before putting it in the oven.
2. Garlic
People are always looking for the best ways to save time in the kitchen and this step-by-step guide will show you one of our favorite ways. If you're ever chopping or mincing garlic, try mixing in some salt (1-2 tsp) and either finely grate it on a cheese grater or use a Microplane zester. This will give you perfect garlic slices about 1/4th of the time and should yield a better result.
3. Instant Coffee
The next time you're looking for a little extra coffee flavor and don't have the time or need to boil water, try pouring a small amount of instant coffee into your pot. It will keep the coffee hot and give it that familiar extra punch. You can also add just enough to sweeten tea without having to use any sugar at all. This is one hack that everyone should know about: if you're tired of drinking sugary black tea every day but want something warm and satisfying, mix instant coffee with plain black tea until it tastes how you like it best.
4. Red Chilli Flakes
Many recipes call for the addition of spices such as red chili powder or crushed pepper. These herbs and spices can quickly add flavor and zip to a dish, but they can also quickly add up in cost if you are using them regularly. Instead, try using pepper flakes instead of grated pepper. You'll still get the desired result without having the expense in the long run.
5.Lemon juice
It's one of the most commonly used and versatile ingredients in kitchens. Some people also swear that putting a little lemon juice on your cutting board will keep it from smelling bad as you chop. After using garlic, place a teaspoon of lemon juice on the knife before storing it. This will get rid of the stink faster than running it under water. And finally, when braising meat, squeeze some lemon juice into the pan and let it cook with the dish while it's simmering on the stove.