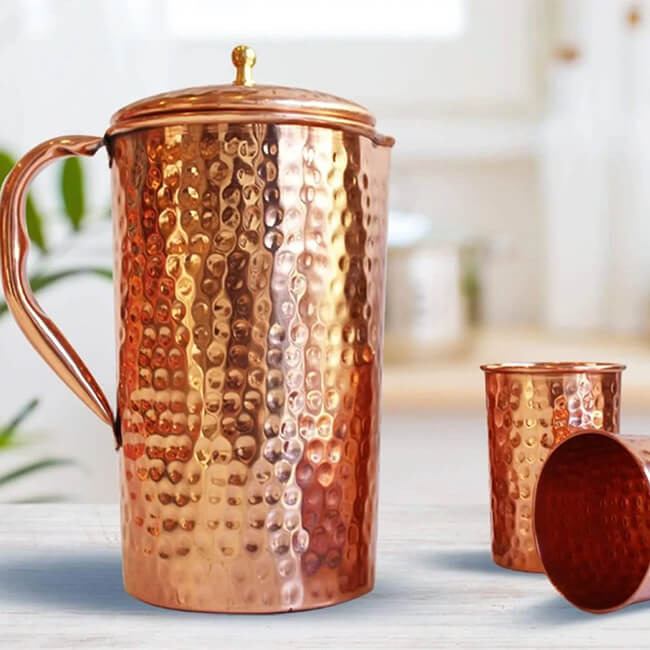 7 Surprising Health Benefits of Drinking Water from a Copper Jug
aloo gobhi, aloo sabji, aloo tikki, amla, amla powder, asafoetida, Australia, baisakhi, baking, beautiful hair, beauty, beverages, biryani, Black beans, black pepper, Black-eyed peas, butter naan, camphor, cardamom, chaat, Chicken, Chicken 65, chicken tikka masala, Chickpeas, chilli, cinnamon, cloves, Cooking, copper jugs, coriander seeds, cumin, curry, Dal, dhokla, digestives, dosa, fast food, fasting, fenugreek, Festival, garlic, ginger, gosht, Green peas, green tea, Groceries, Gulab Jamun, hair, hair care, hair colour, hair hacks, hair loss, haldi, haleem, Halwa, health, healthy living, heena, home, home decor, Home Food, honey, ice cream, idli, india, Indian Cuisines, indian dish, Indian Food, Indian Spices, indian street food, Indian Sweet, iron pan, italian food, jaggery, jalebi, jeera, jugs, kheer, Kidney beans, kitchen, kitchen hacks, lentils, lifestyle, Lima beans, makhana, makki ki roti, mango pickle, masala tea, mehendi, methi, millet, millet flour, MTR Foods, mustard seeds, mutton, natural digestives, Navratri, Navy beans, nihari, organic, pakistani dish, pakistani spices, pancakes, Paneer Makhani, pani puri, papad, pasta, Peanuts, pickle, pudding, Rakhi, Rakshabandhan, rava kesari, ready to eat, rice, saffron, sambar, samosa, Samosas, sarson ka saag, sauce, scalp, soup, soups, soups and sauces, south indian dish, Spices, star anise, steel utnesils, stew, street food, suji halwa, Sweet Dish, syrup, tea, tomato pickle, Toor Dal, turmeric, uttapam, water

22 Sep, 2022
You're probably aware of the many benefits of drinking water, but did you know that copper jugs can help your body absorb water more effectively? It's true! The copper in copper jugs has natural antibacterial properties, making it more beneficial to your health than plastic or glass containers. Find out what other surprising health benefits are associated with drinking from a copper jug, and start making the switch today! India At Home makes it easy for you to buy copper jugs in Australia.
1. Boosts energy
One of the most surprising benefits that drinking water out of a copper jug can give you is more energy. Here's why: when people drink water, their body releases digestive enzymes that go on to work on breaking down the minerals found in the water. So drinking water through a copper jug means that there are added elements that make it easier for your body to break down what's going into it, meaning you'll have more energy and feel more refreshed afterward.
2. Helps recover faster after workouts
One surprising benefit is that drinking water from a copper jug can help your body recover faster after intense workouts. Just be sure to drink plenty before and after you work out! It also helps if the water comes straight from the jug, as in cold or room temperature. Other than that, this might just become your new go-to workout accessory!
3. Helps improve blood pressure
The copper that the jug is made out of is believed to balance and oxygenate your blood, which promotes the better health of all your body parts. Oxygen-rich blood will help improve your energy levels while boosting your immune system. Furthermore, studies have shown that drinking water in a copper jug can reduce blood pressure naturally. It may take some time before you see the benefits, but it can be beneficial in regulating the body's fluid balance by restoring electrolyte levels.
4. May lower risk of cancer
Drinking water in copper jugs has been said to inhibit the oxidation process, which can lower the risk of cancer. The old copper cups reduced bacteria in drinking water, thus lowering the chances of respiratory infections. The acidity levels in the metal are high enough to be able to kill many types of harmful organisms.
5. Keeps you looking young
Copper has powerful anti-inflammatory and antioxidant effects on the body. This translates to younger skin with decreased wrinkles, better blood circulation (lowering the risk of heart attack or stroke), clearer sinuses, and many other health benefits. When you drink water stored in a copper jug, you're ingesting these naturally occurring minerals for radiant skin.
6. Improves skin complexion
While the copper jug's claim to improve skin complexion is not well-supported in scientific literature, drinking water from copper will not harm your health. In fact, this type of water may have other health benefits such as preventing tooth decay and keeping your gastrointestinal system healthy.
7. Increases metabolism
Copper is an essential mineral required for the production of red blood cells. It also helps your muscles contract and release, which aids in your metabolic rate, helping you to burn more calories when you're active. Increased metabolic rate is just one of the many health benefits of drinking water from copper vessels. Studies have found that these cups also can help to promote healthy skin by flushing toxins out of your system, including chlorine and lead!