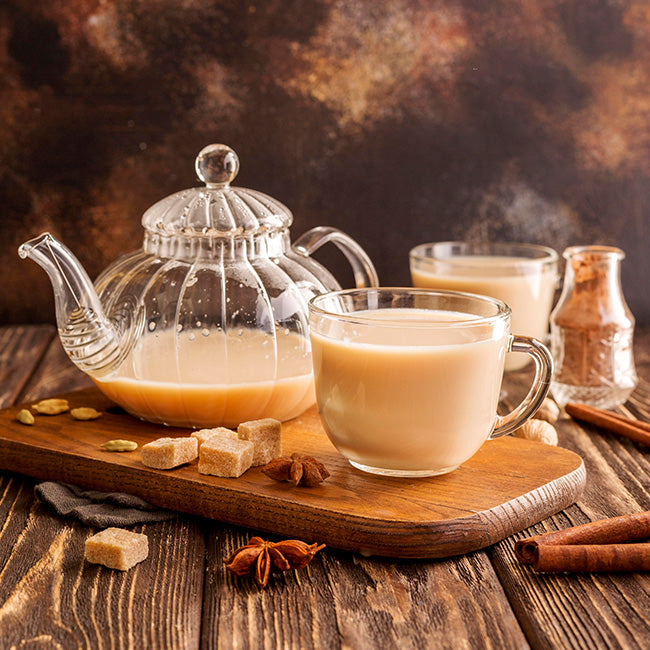 How To Make The Perfect Masala Tea and Reap The Health Benefits.
aloo gobhi, aloo sabji, aloo tikki, amla, amla powder, asafoetida, Australia, baisakhi, baking, beautiful hair, beauty, beverages, biryani, Black beans, black pepper, Black-eyed peas, butter naan, camphor, cardamom, chaat, Chicken, Chicken 65, chicken tikka masala, Chickpeas, chilli, cinnamon, cloves, Cooking, copper jugs, coriander seeds, cumin, curry, Dal, dhokla, digestives, dosa, fast food, fasting, fenugreek, Festival, garlic, ginger, gosht, Green peas, green tea, Groceries, Gulab Jamun, hair, hair care, hair colour, hair hacks, hair loss, haldi, haleem, Halwa, health, healthy living, heena, home, home decor, Home Food, honey, ice cream, idli, india, Indian Cuisines, indian dish, Indian Food, Indian Spices, indian street food, Indian Sweet, iron pan, italian food, jaggery, jalebi, jeera, jugs, kheer, Kidney beans, kitchen, kitchen hacks, lentils, lifestyle, Lima beans, makhana, makki ki roti, mango pickle, masala tea, mehendi, methi, millet, millet flour, MTR Foods, mustard seeds, mutton, natural digestives, Navratri, Navy beans, nihari, organic, pakistani dish, pakistani spices, pancakes, Paneer Makhani, pani puri, papad, pasta, Peanuts, pickle, pudding, Rakhi, Rakshabandhan, rava kesari, ready to eat, rice, saffron, sambar, samosa, Samosas, sarson ka saag, sauce, scalp, soup, soups, soups and sauces, south indian dish, Spices, steel utnesils, stew, street food, Sweet Dish, syrup, tea, tomato pickle, Toor Dal, turmeric, uttapam, water

17 Jan, 2023
Masala tea is a popular Indian beverage, made with a combination of spices and herbs. It is believed to have numerous health benefits and can be enjoyed hot or cold. In this blog post, we will discuss the health benefits of masala tea, as well as how to make the perfect cup of masala tea so that you can reap the full potential of its many health benefits. Whether you're an avid masala tea drinker or just looking for a new beverage to add to your routine, this blog post is sure to provide you with the knowledge and inspiration to make the perfect cup of masala tea.
What is masala tea?
Masala tea, also known as chai, is a popular beverage in India. It is a fragrant and flavorful combination of spices, black tea, and milk. Masala tea is typically made with a combination of cardamom, cinnamon, cloves, ginger, and black peppercorns. This mixture is steeped in boiling water along with black tea leaves and then mixed with milk. The result is a warm, creamy, and spiced tea that has been enjoyed by people around the world for centuries. The spices used to make masala tea provide numerous health benefits that can help to improve digestion, boost energy levels, and strengthen the immune system. Whether you're looking for an energizing beverage to start your day or an after-dinner drink to relax with, masala tea may be a perfect choice.
The health benefits of masala tea.
Masala tea is a traditional Indian beverage that is known for its robust flavor and comforting aroma. Aside from being a delicious treat, masala tea has a variety of health benefits that are just as impressive. Here are some of the many benefits of enjoying a cup of masala tea:
Improved Immunity: Masala tea contains immune-boosting ingredients like ginger, cardamom, cinnamon, and black pepper. All of these spices have powerful anti-inflammatory and antioxidant properties that can help strengthen the body's immune system.

Digestive Aid: The spice mixture in masala tea can help stimulate digestion and ease any stomach discomfort. This can be especially beneficial if you're suffering from an upset stomach or indigestion.

Weight Loss: Masala tea is a great way to boost your metabolism, which can help with weight loss. Additionally, the spices found in masala tea can help suppress your appetite, making it easier to stay on track with your diet.

Detoxification: The spices in masala tea act as natural detoxifiers and can help flush out toxins from your body. This can help reduce inflammation, improve digestion, and give your overall health a boost.

Better Skin: The antioxidants in masala tea can help protect your skin from free radical damage, which can lead to premature aging. Additionally, masala tea can also help reduce inflammation and soothe any skin irritations.
As you can see, there are numerous health benefits associated with masala tea. If you're looking to enjoy the flavors and health benefits of this delicious Indian beverage, make sure to brew up a cup of masala tea today!
How to make the perfect cup of masala tea. 
Making a perfect cup of masala tea is easy and can be done with just a few ingredients.
To begin, you'll need one teaspoon of black tea leaves, one inch of ginger root, one cardamom pod, half a cinnamon stick, and one tablespoon of sugar.
First, boil two cups of water in a pot. Once the water comes to a boil, add the black tea leaves and let it steep for about 5 minutes. After 5 minutes, strain the tea into a mug or cup.
Next, finely grate the ginger root and add it to the tea. Cut open the cardamom pod and add the seeds to the tea as well. Finally, break the cinnamon stick into small pieces and add them to the tea. Stir all the ingredients together and then add 1 tablespoon of sugar (or more, to taste).
You're now ready to enjoy your perfect cup of masala tea!
Masala tea has been enjoyed in India for centuries and is known for its numerous health benefits. Not only does it help boost your immunity, but it also aids digestion and helps reduces inflammation. The antioxidant properties found in masala tea can help fight free radicals that cause damage to cells in your body. Plus, it's known for helping to lower blood pressure and reduce stress levels.
So why not try making your perfect cup of masala tea? You'll be able to reap all of its health benefits and enjoy a delicious cup of tea every day!