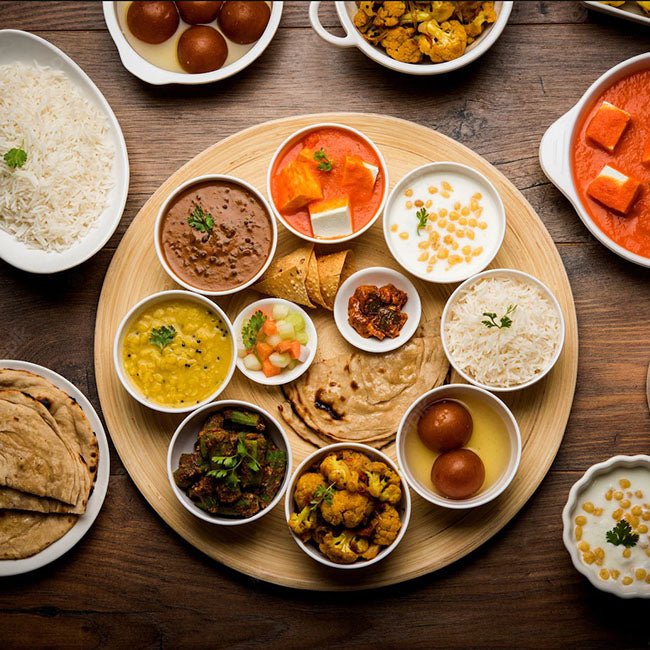 Not Your Typical Christmas Dinner: India-Inspired Dishes to Spice Up the Holiday Meal
aloo gobhi, aloo sabji, aloo tikki, amla, amla powder, asafoetida, Australia, baisakhi, baking, beautiful hair, beauty, beverages, biryani, Black beans, black pepper, Black-eyed peas, butter naan, camphor, cardamom, chaat, Chicken, Chicken 65, chicken tikka masala, Chickpeas, chilli, cinnamon, cloves, Cooking, copper jugs, coriander seeds, cumin, curry, Dal, dhokla, digestives, dosa, fast food, fasting, fenugreek, Festival, garlic, ginger, gosht, Green peas, green tea, Groceries, Gulab Jamun, hair, hair care, hair colour, hair hacks, hair loss, haldi, haleem, Halwa, health, healthy living, heena, home, home decor, Home Food, honey, ice cream, idli, india, Indian Cuisines, indian dish, Indian Food, Indian Spices, indian street food, Indian Sweet, iron pan, italian food, jaggery, jalebi, jeera, jugs, kheer, Kidney beans, kitchen, kitchen hacks, lentils, lifestyle, Lima beans, makhana, makki ki roti, mango pickle, masala tea, mehendi, methi, millet, millet flour, MTR Foods, mustard seeds, mutton, natural digestives, Navratri, Navy beans, nihari, organic, pakistani dish, pakistani spices, pancakes, Paneer Makhani, pani puri, papad, pasta, Peanuts, pickle, pudding, Rakhi, Rakshabandhan, rava kesari, ready to eat, rice, saffron, sambar, samosa, Samosas, sarson ka saag, sauce, scalp, soup, soups, soups and sauces, south indian dish, Spices, star anise, steel utnesils, stew, street food, suji halwa, Sweet Dish, syrup, tea, tomato pickle, Toor Dal, turmeric, uttapam, water

20 Dec, 2022
Christmas is a special time of the year when family and friends come together to share a meal and enjoy each other's company. This year, why not give your Christmas dinner a unique twist by adding some Indian-inspired dishes to the traditional holiday fare? From sweet to savory, there are plenty of delicious and flavorful recipes that can add some exotic flair to your Christmas dinner table. In this blog post, we'll explore some of the best Indian dishes you can make for your Christmas dinner, including delectable desserts, curries, and more!
Paneer Makhani
The flavors of India are perfect for adding a unique twist to any holiday dinner. For those looking to shake things up a bit this Christmas, why not try Paneer Makhani? This creamy and savory dish is made with cubes of paneer cheese simmered in a spiced tomato-based sauce. It is a delicious way to add some global flair to your holiday meal.
To make Paneer Makhani, start by heating some oil in a pan. Then add the paneer cubes, stirring until lightly browned. Then add garlic, ginger, garam masala, cumin, chili powder, and turmeric. Cook for 1 minute before adding chopped tomatoes, tomato paste, and heavy cream. Simmer for 10 minutes until the sauce thickens, then add salt and freshly chopped cilantro to taste.
Serve the Paneer Makhani over basmati rice or warm naan bread for a delicious and flavorful Christmas meal. You can also top it off with a dollop of Greek yogurt and some freshly toasted nuts. No matter how you serve it, this dish is sure to bring an exotic twist to your holiday table. Enjoy!
Chicken Tikka Masala
If you're looking to add a bit of an Indian twist to your holiday meal, Chicken Tikka Masala is the perfect dish. Not only is it flavorful, but it's also easy to make and can be served with basmati rice or naan for a complete meal.
To make Chicken Tikka Masala, start by marinating chicken breasts in a mixture of Greek yogurt, garlic, ginger, and spices. You can make this mixture ahead of time for convenience. Once the chicken is marinated, cook it in a skillet until it's lightly browned. Next, add onions, garlic, and ginger to the pan and cook until softened. Pour in a can of crushed tomatoes and season with salt, pepper, and your favorite spices. Simmer the sauce for 20 minutes or until it's thickened. Finally, add the chicken back to the pan and simmer for another 10 minutes. Serve hot with basmati rice or naan and garnish with cilantro and lime wedges.
This delicious dish will be sure to make your Christmas dinner extra special!
Samosas
Christmas dinner is the most important meal of the year, and the traditional dishes are always a highlight. But why not mix it up a bit this year and try some Indian-inspired dishes? Samosas are a delicious way to add a unique twist to your Christmas dinner table.
If you're looking for something new and exciting to try for Christmas dinner this year, samosas are the perfect option. They're quick and easy to make and offer a delicious way to spice up your holiday meal. So why not give samosas a try this Christmas? Your guests will thank you!
Aloo Gobi
One of the most iconic Indian dishes is aloo gobi, a dish made of potatoes, cauliflower, and spices. This vegetarian side dish is easy to make and packed with flavor, making it perfect for adding some zest to your Christmas dinner. The potatoes provide a wonderful crunchy texture while the cauliflower absorbs the flavorful spices and provides a nice contrast in texture. This dish is not only delicious but also incredibly healthy!
To make this dish, begin by heating a tablespoon of oil in a large skillet over medium heat. Add in 1 teaspoon of cumin, 1 teaspoon of coriander, and 1 teaspoon of turmeric. Toast these spices for about 30 seconds before adding 1 diced onion and 2 minced cloves of garlic. Sauté this mixture until the onions become soft and translucent, about 5 minutes. Next, add 1 pound of diced potatoes and 1/2 pound of chopped cauliflower to the pan. Stir everything together and season with salt and pepper. Cover the skillet and let the vegetables steam for about 15 minutes, stirring occasionally. Once the vegetables are tender, sprinkle in 2 tablespoons of freshly chopped cilantro leaves and stir everything together. Serve warm with your favorite Christmas dinner dishes. Enjoy!
Naan
The warm, soft texture and fragrant aroma of freshly-baked naan make it an essential part of any Indian feast. For a Christmas dinner with an Indian twist, why not consider making homemade naan?
Making naan is surprisingly easy and there are countless recipes out there for the traditional bread. From adding garlic or herbs to changing up the fat used in the recipe, you can customize your naan to suit the flavors of your Indian-inspired Christmas dinner.
So if you're looking to make your Christmas dinner truly memorable this year, don't forget the naan! Making it at home is a fun, easy way to bring some authentic Indian flavors to your holiday meal.
Gulab Jamun
This dessert can be served warm or cold. To serve it warm, simply take the pre-made dough balls mixture from our store, prepare the balls as per the instructions in the packet and fry them until golden brown. Then, soak them in the prepared syrup for about 10 minutes. Finally, garnish with crushed nuts and saffron for a festive look.
If you'd rather serve it cold, there are several variations you can try. One popular option is to make a version called kheer, which is similar to a rice pudding. In this recipe, you simmer cooked rice in sweetened condensed milk until it's thick and creamy. Then, you'll need to cool it down and form it into small balls before deep-frying them.
No matter how you choose to prepare it, Gulab Jamun is sure to be a hit at your Christmas dinner. It's a delicious and unique way to add some Indian flavor to your holiday celebration.