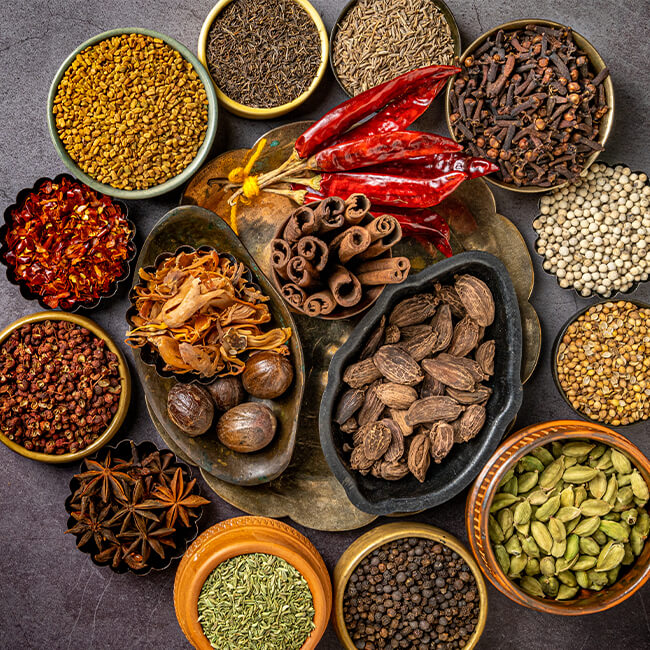 The 7 Most Important Indian Spices to Have in Your Kitchen
aloo gobhi, aloo sabji, aloo tikki, amla, amla powder, asafoetida, Australia, baisakhi, baking, beautiful hair, beauty, beverages, biryani, Black beans, black pepper, Black-eyed peas, butter naan, camphor, cardamom, chaat, Chicken, Chicken 65, chicken tikka masala, Chickpeas, chilli, cinnamon, cloves, Cooking, copper jugs, coriander seeds, cumin, curry, Dal, dhokla, digestives, dosa, fast food, fasting, fenugreek, Festival, garlic, ginger, gosht, Green peas, green tea, Groceries, Gulab Jamun, hair, hair care, hair colour, hair hacks, hair loss, haldi, haleem, Halwa, health, healthy living, heena, home, home decor, Home Food, honey, ice cream, idli, india, Indian Cuisines, indian dish, Indian Food, Indian Spices, indian street food, Indian Sweet, iron pan, italian food, jaggery, jalebi, jeera, jugs, kheer, Kidney beans, kitchen, kitchen hacks, lentils, lifestyle, Lima beans, makhana, makki ki roti, mango pickle, masala tea, mehendi, methi, millet, millet flour, MTR Foods, mustard seeds, mutton, natural digestives, Navratri, Navy beans, nihari, organic, pakistani dish, pakistani spices, pancakes, Paneer Makhani, pani puri, papad, pasta, Peanuts, pickle, pudding, Rakhi, Rakshabandhan, rava kesari, ready to eat, rice, saffron, sambar, samosa, Samosas, sarson ka saag, sauce, scalp, soup, soups, soups and sauces, south indian dish, Spices, star anise, steel utnesils, stew, street food, suji halwa, Sweet Dish, syrup, tea, tomato pickle, Toor Dal, turmeric, uttapam, water

29 Nov, 2022
Dried Indian spices have been used by chefs and home cooks alike in kitchens all over the world to add flavor to food and enhance dishes. Indian cuisine is known for its blending of spices, herbs, and other ingredients, creating unique flavors not found in other cuisines around the world. These flavors are what makes Indian food so incredible. So, in order to experience these delicious flavors yourself, you need to make sure you have the right spices in your kitchen! Here are 7 must-have Indian whole spices in your kitchen that will elevate any dish you cook up!
Cumin
It's not just the heat of cumin that makes it such a popular Indian spice. Cumin has many health benefits and is often used to improve digestion and decrease gas. It can also be an effective anti-inflammatory, which is why it is often recommended for arthritis. Cumin's peppery flavor brings out the best in many dishes, from salads and curries to rice dishes and raitas. A lack of this spice will likely leave your dish missing some depth or interest. 
Coriander Seeds
Coriander is a wonderful spice that is used all over the world. However, in India, it is highly regarded as one of the seven great whole spices. Coriander seeds are a key ingredient in many curries and masalas. In addition, they can be used to make delicious chutneys, pickles, and soups. When buying coriander seeds keep an eye out for them being labeled as cilantro instead since cilantro is a different plant altogether.
Cardamom
To make cardamom powder, the pods are peeled and then dried for several days before being ground into a fine powder. They add a sweet, floral flavor to recipes like rice pudding or gingerbread cake. It is also used in baking cookies or cakes as well as making spice mixtures like garam masala and curry blends. In India, it is also used in meat dishes such as chicken tikka masala or lamb vindaloo. 
Cinnamon
So what exactly are the benefits of using cinnamon? Well, for starters, it can help stabilize blood sugar levels and increase insulin sensitivity. Cinnamon also aids in digestion by helping food move through your intestines more quickly. And lastly, a teaspoon of cinnamon added to your morning coffee has been shown to lower cholesterol and triglyceride levels.
Cloves
Indian cooking is known for its rich, spicy flavors. One of the spices used most often in India is cloves, a member of the laurel family. Cloves are the dried flower buds of an evergreen tree that grows wild in Indonesia, Madagascar, and Zanzibar. In Indian cuisine, cloves are used whole or ground with other spices to make a paste called garam masala which is often used as a seasoning for meat dishes and lentils. 
Turmeric
Although turmeric is used as a spice in many other cuisines, it is essential for Indian cooking because of its yellow color and distinctive flavor. Turmeric is one of the main ingredients in curry powder. It also has medicinal qualities. Studies suggest that turmeric can reduce inflammation, improve heart health, and help prevent Alzheimer's disease. The best way to use this powerful ingredient is by adding it near the end of cooking because heat destroys its active ingredients- curcuminoids. Turmeric: One of the most common spices found in an Indian kitchen, turmeric is most commonly used to give curry dishes their bright yellow color. But it also has antioxidant properties that help fight inflammation and cancer cells while adding flavor to your dishes. 
Ginger
Every day there's a new trend on what foods are good for you and what foods are bad. One thing that has been constant is that ginger helps with food digestion, motion sickness, nausea, and morning sickness. Ginger can also be used as a natural anti-inflammatory. You'll find ginger in many curries and even chai tea.