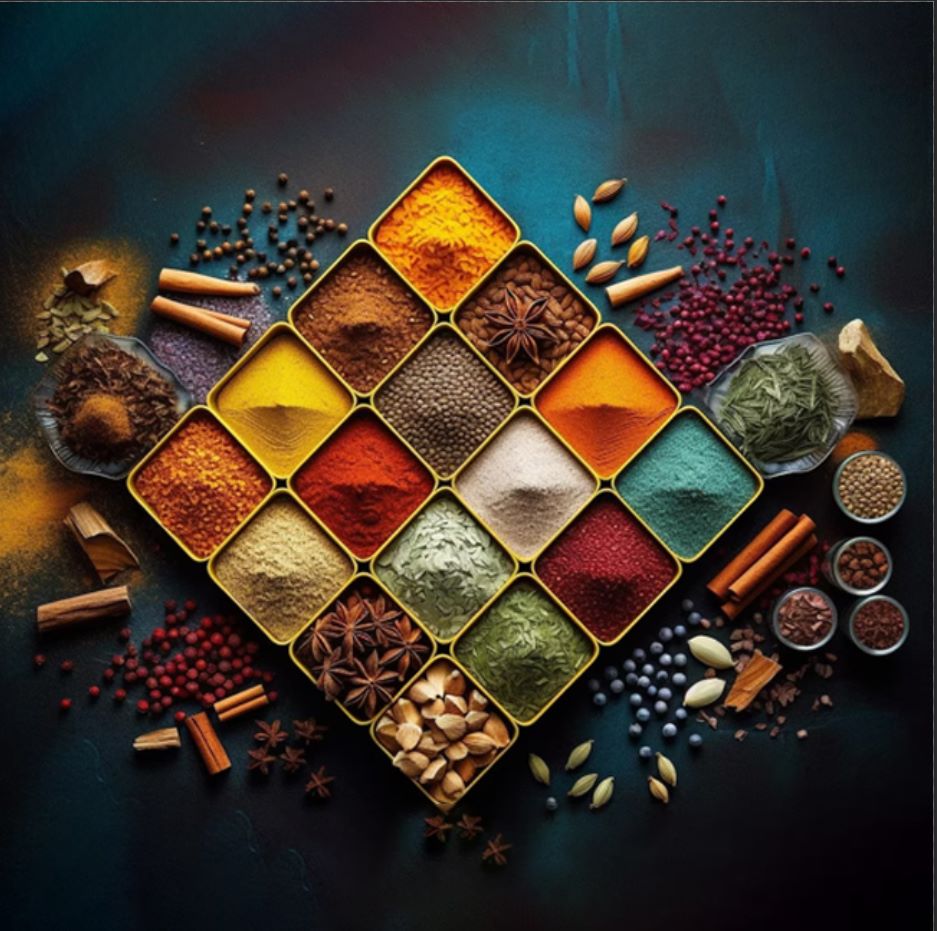 10 benefits of adding whole spices to your cooking.
aloo gobhi, aloo sabji, aloo tikki, amla, amla powder, asafoetida, Australia, baisakhi, baking, beautiful hair, beauty, beverages, biryani, Black beans, black pepper, Black-eyed peas, butter naan, camphor, cardamom, chaat, Chicken, Chicken 65, chicken tikka masala, Chickpeas, chilli, cinnamon, cloves, Cooking, copper jugs, coriander seeds, cumin, curry, Dal, dhokla, digestives, dosa, fast food, fasting, fenugreek, Festival, garlic, ginger, gosht, Green peas, green tea, Groceries, Gulab Jamun, hair, hair care, hair colour, hair hacks, hair loss, haldi, haleem, Halwa, health, healthy living, heena, home, home decor, Home Food, honey, ice cream, idli, india, Indian Cuisines, indian dish, Indian Food, Indian Spices, indian street food, Indian Sweet, iron pan, italian food, jaggery, jalebi, jeera, jugs, kheer, Kidney beans, kitchen, kitchen hacks, lentils, lifestyle, Lima beans, makhana, makki ki roti, mango pickle, masala tea, mehendi, methi, millet, millet flour, MTR Foods, mustard seeds, mutton, natural digestives, Navratri, Navy beans, nihari, organic, pakistani dish, pakistani spices, pancakes, Paneer Makhani, pani puri, papad, pasta, Peanuts, pickle, pudding, Rakhi, Rakshabandhan, rava kesari, ready to eat, rice, saffron, sambar, samosa, Samosas, sarson ka saag, sauce, scalp, soup, soups, soups and sauces, south indian dish, Spices, star anise, steel utnesils, stew, street food, suji halwa, Sweet Dish, syrup, tea, tomato pickle, Toor Dal, turmeric, uttapam, water

18 Aug, 2023
Indulge your senses and elevate your culinary creations to new heights by embracing the captivating world of Indian whole spices. These tiny powerhouses of flavor have the remarkable ability to transform ordinary dishes into extraordinary feasts while adding incredible health benefits. Here are 10 irresistible benefits that will surely entice you to include whole spices in your daily meals:
A Symphony of Aromas: Imagine stepping into a world where every dish is a symphony of enchanting aromas. Whole spices, when gently toasted or ground, release fragrant notes that dance through the air, awakening your senses before the first bite.
Flavor Unleashed: Unleash a burst of authentic flavor that pre-ground spices simply can't replicate. Whole spices maintain their essence until the moment of use, ensuring that each mouthful explodes with an explosion of robust taste that leaves a lasting impression.
Culinary Adventure: Embark on a culinary adventure that transports you across continents and cultures. Whole spices allow you to explore new tastes, from the warmth of Indian cardamom to the zesty kick of Mexican cumin, creating a passport-free journey on your plate.
Customized Intensity: Take control of your flavor destiny! The beauty of whole spices lies in their adaptable nature. Whether you prefer a mild whisper or a bold proclamation of taste, you can regulate the intensity by adjusting the amount of spice you incorporate.
Preservation of Freshness: Whole spices are the guardians of freshness. By keeping their natural protective coat intact, these spices retain their vibrant essence, delivering a vivaciousness that brings dishes to life in a way that their pre-ground counterparts can't match.
Visual Feast: Turn your kitchen into a vibrant palette of colors. The rich hues of whole spices add visual appeal, transforming even the simplest of dishes into a mesmerizing feast for the eyes before they even touch your lips.
Long-Lasting Pantry Stars: Unlike their pre-ground counterparts that often lose their charm swiftly, whole spices stand as the resilient heroes of your pantry. Their longevity ensures that you can savor their wonders for months on end without compromise.
Master the Art of Infusion: Become a maestro of infusion as you gently release the essence of whole spices into oils, broths, and sauces. This skill adds layers of depth and complexity, coaxing out hidden dimensions of flavor that make each bite an exquisite revelation.
Healthful Secrets: Revel in the hidden health benefits that whole spices bring to your table. Many spices are known for their antioxidant and anti-inflammatory properties, contributing not just to your palate's delight, but also to your overall well-being.
Heartfelt Gestures: Infuse your meals with a dash of love and tradition. Whole spices have been cherished for centuries in cultures worldwide, passing down stories and heritage with every sprinkle. By embracing them, you're not just cooking – you're nurturing connections and building memories.
So, there you have all the reasons to embrace the allure of whole spices in your culinary escapades. Elevate your dishes, tantalize your taste buds, and create a symphony of flavors that will leave your guests spellbound and your palate forever grateful. Your journey into the world of whole spices awaits – let the gastronomic enchantment begin!