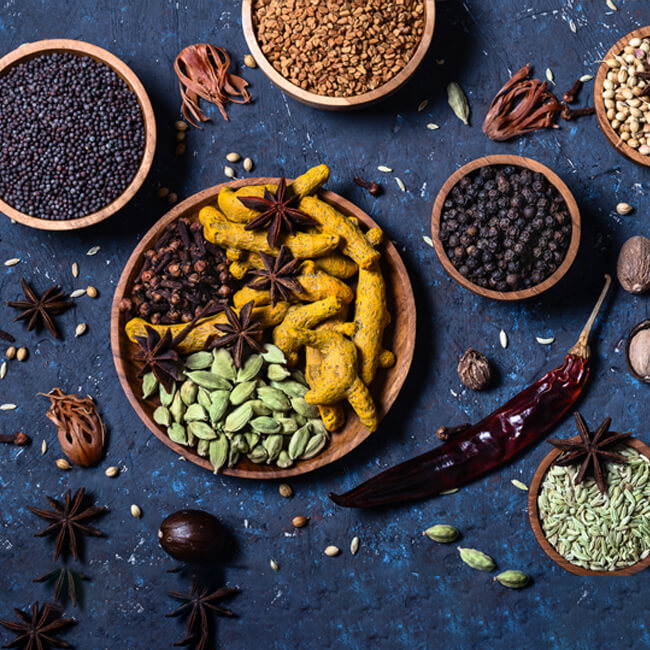 10 Popular Indian Spices for Winters and Their Benefits.
aloo gobhi, aloo sabji, aloo tikki, amla, amla powder, asafoetida, Australia, baisakhi, baking, beautiful hair, beauty, beverages, biryani, Black beans, black pepper, Black-eyed peas, butter naan, camphor, cardamom, chaat, Chicken, Chicken 65, chicken tikka masala, Chickpeas, chilli, cinnamon, cloves, Cooking, copper jugs, coriander seeds, cumin, curry, Dal, dhokla, digestives, dosa, fast food, fasting, fenugreek, Festival, garlic, ginger, gosht, Green peas, green tea, Groceries, Gulab Jamun, hair, hair care, hair colour, hair hacks, hair loss, haldi, haleem, Halwa, health, healthy living, heena, home, home decor, Home Food, honey, ice cream, idli, india, Indian Cuisines, indian dish, Indian Food, Indian Spices, indian street food, Indian Sweet, iron pan, italian food, jaggery, jalebi, jeera, jugs, kheer, Kidney beans, kitchen, kitchen hacks, lentils, lifestyle, Lima beans, makhana, makki ki roti, mango pickle, masala tea, mehendi, methi, millet, millet flour, MTR Foods, mustard seeds, mutton, natural digestives, Navratri, Navy beans, nihari, organic, pakistani dish, pakistani spices, pancakes, Paneer Makhani, pani puri, papad, pasta, Peanuts, pickle, pudding, Rakhi, Rakshabandhan, rava kesari, ready to eat, rice, saffron, sambar, samosa, Samosas, sarson ka saag, sauce, scalp, soup, soups, soups and sauces, south indian dish, Spices, star anise, steel utnesils, stew, street food, suji halwa, Sweet Dish, syrup, tea, tomato pickle, Toor Dal, turmeric, uttapam, water

15 Jun, 2023
During winter, several popular Indian spices are commonly used due to their warming properties and health benefits. Here are five such spices along with their benefits: 
Turmeric (Haldi): Turmeric is a vibrant yellow spice widely used in Indian cuisine. It contains a compound called curcumin, which has anti-inflammatory properties and helps boost immunity. It is known to provide relief from cough, cold, and joint pain, which are common during winter.

 
Cinnamon (Dalchini): Cinnamon is a fragrant spice with a sweet and warm flavor. It helps in regulating blood sugar levels and improving insulin sensitivity. Cinnamon also has anti-inflammatory and antioxidant properties. Consuming cinnamon during winter may promote circulation and keep the body warm.

 
Ginger (Adrak): Ginger is a versatile spice with a strong and distinctive flavor. It is commonly used in teas, soups, and curries during winter. Ginger has thermogenic properties that can help increase body heat and promote digestion. It is also known to relieve respiratory problems, such as cough and congestion.

 
Cloves (Laung): Cloves are aromatic flower buds commonly used in Indian cooking and beverages. They have antimicrobial properties and are beneficial for oral health. Cloves can help alleviate cold and cough symptoms, provide relief from toothaches, and aid digestion. They are often added to warm drinks during winter.

 
Black Pepper (Kali Mirch): Black pepper is a popular spice used for its sharp and spicy flavor. It contains a compound called piperine, which aids in digestion and has antioxidant properties. Black pepper also has thermogenic effects that can help generate heat in the body during winter.

 
Cumin (Jeera): Cumin seeds have a warm and earthy flavor. They are commonly used in soups, stews, and curries during winter. Cumin aids digestion, boosts metabolism, and helps keep the body warm.

 
Cardamom (Elaichi): Cardamom pods have a unique aroma and taste. They are often added to desserts, tea, and warm milk during winter. Cardamom is known to improve digestion, freshen breath, and provide relief from respiratory problems.

 
Fenugreek (Methi): Fenugreek leaves and seeds are widely used in Indian cuisine. The bitter taste of fenugreek adds depth to dishes. Fenugreek is believed to have warming properties and is known to help regulate blood sugar levels, boost immunity, and improve digestion.

 
Mustard Seeds (Sarson): Mustard seeds are commonly used in pickles, curries, and vegetable preparations during winter. They have a pungent flavor and are rich in antioxidants. Mustard seeds are believed to have warming effects and can help improve circulation.

 
Asafoetida (Hing): Asafoetida is a strong-smelling spice commonly used in Indian cooking. It aids digestion, relieves bloating, and helps keep the body warm during winter. It is typically added to lentil dishes and vegetable curries.

 
These spices not only add delicious flavors to dishes but also offer various health benefits, making them excellent additions to winter meals. However, it's important to note that individual tolerance and health conditions may vary, so it's always advisable to consult a healthcare professional before incorporating new spices into your diet, especially if you have any specific health concerns or allergies.