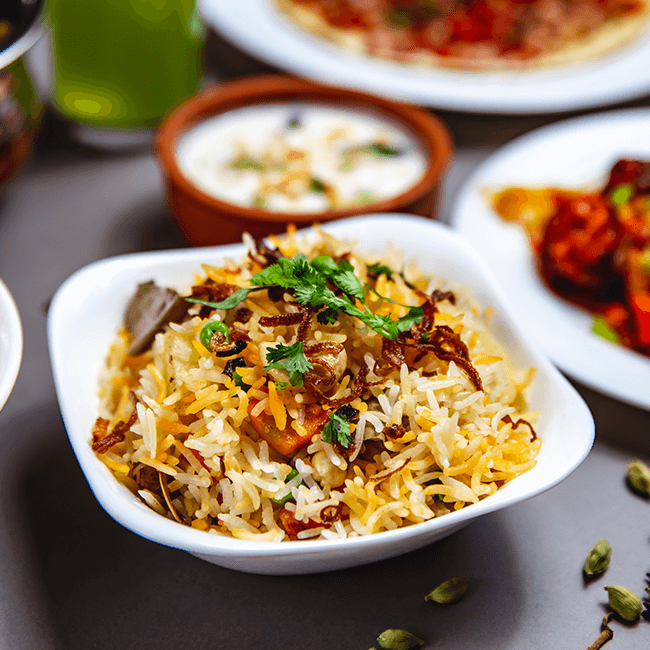 5 Types of Biryani from Around the World
aloo gobhi, aloo sabji, aloo tikki, amla, amla powder, asafoetida, Australia, baisakhi, baking, beautiful hair, beauty, beverages, biryani, Black beans, black pepper, Black-eyed peas, butter naan, camphor, cardamom, chaat, Chicken, Chicken 65, chicken tikka masala, Chickpeas, chilli, cinnamon, cloves, Cooking, copper jugs, coriander seeds, cumin, curry, Dal, dhokla, digestives, dosa, fast food, fasting, fenugreek, Festival, garlic, ginger, gosht, Green peas, green tea, Groceries, Gulab Jamun, hair, hair care, hair colour, hair hacks, hair loss, haldi, haleem, Halwa, health, healthy living, heena, home, home decor, Home Food, honey, ice cream, idli, india, Indian Cuisines, indian dish, Indian Food, Indian Spices, indian street food, Indian Sweet, iron pan, italian food, jaggery, jalebi, jeera, jugs, kheer, Kidney beans, kitchen, kitchen hacks, lentils, lifestyle, Lima beans, makhana, makki ki roti, mango pickle, masala tea, mehendi, methi, millet, millet flour, MTR Foods, mustard seeds, mutton, natural digestives, Navratri, Navy beans, nihari, organic, pakistani dish, pakistani spices, pancakes, Paneer Makhani, pani puri, papad, pasta, Peanuts, pickle, pudding, Rakhi, Rakshabandhan, rava kesari, ready to eat, rice, saffron, sambar, samosa, Samosas, sarson ka saag, sauce, scalp, soup, soups, soups and sauces, south indian dish, Spices, star anise, steel utnesils, stew, street food, suji halwa, Sweet Dish, syrup, tea, tomato pickle, Toor Dal, turmeric, uttapam, water

27 Feb, 2023
For centuries, biryani has been a staple of South Asian cuisine. This beloved dish is enjoyed in many different countries and has been adapted to fit the local tastes of each region. From India to Afghanistan and even the Middle East, biryani is a beloved dish that is prepared in a variety of ways. In this blog post, we will explore five types of biryani from around the world, including India, Pakistan, Afghanistan, Iran, and Saudi Arabia. Read on to learn more about these delicious varieties of biryani and discover how each country adds its own unique twist to this classic dish.
1) India - Hyderabadi Biryani
One of the most popular types of biryani is the Hyderabadi biryani, originating from the city of Hyderabad in India. This dish is made by marinating pieces of meat with a blend of spices and then cooking it with long-grained basmati rice. It is served with a variety of accompaniments, such as raita (a yogurt-based sauce) and mirchi ka salan (a hot pepper-based sauce). The biryani is usually garnished with fresh herbs and a squeeze of lime to add a zesty flavor. The combination of spices used in this biryani varies depending on the region, but typically includes cloves, cardamom, cinnamon, bay leaves, coriander, cumin, and mint. The flavors combine to create a unique and aromatic dish that is loved throughout India.
2) Pakistan - Sindhi Biryani
Sindhi Biryani is a classic Pakistani dish made from Basmati rice, meat, and a variety of spices. The biryani is cooked in a special pot over low heat and is typically served with mint chutney or raita.
The main ingredients of the biryani include basmati rice, various spices such as cardamom, cloves, bay leaves, cumin, coriander, cinnamon, and other herbs and spices, as well as tomatoes and onions. The rice is flavored with masala paste which is made with onions, garlic, and ginger.
The meat used for Sindhi Biryani can be chicken, beef, mutton, or fish depending on personal preference. The meat is marinated overnight in a spicy mixture of yogurt and spices to enhance the flavor.
To give it an authentic Pakistani touch, Sindhi Biryani is garnished with nuts, saffron, and fried onions. The biryani is also served with chutney or raita on the side to balance out the flavors.
Sindhi Biryani is a dish that has been enjoyed by Pakistani families for generations. It's an aromatic blend of spices, meat, and rice which is sure to tantalize your taste buds. Give this classic Pakistani dish a try and enjoy a delicious meal! 
3) Sri Lanka - Tamil Mutton Biryani
Tamil Mutton Biryani is a popular dish in Sri Lanka, and it has become a staple in many households across the country. This type of biryani is made with aromatic spices, fresh herbs, and succulent pieces of mutton cooked in a flavorful rice-based sauce. The rice is cooked until it is soft and fluffy, while the pieces of mutton are cooked until they are tender and juicy.
The spices used in Tamil Mutton Biryani are cumin, turmeric, cardamom, coriander, ginger, pepper, cinnamon, bay leaves, and cloves. These spices give the dish its distinct flavor. To enhance the flavor even further, many cooks add coconut milk or yogurt to the biryani. Additionally, some versions of this biryani also contain dried fruits such as raisins and apricots.
When served, Tamil Mutton Biryani is usually accompanied by yogurt or pickles. It can also be served with onion raita or any other condiment of your choice. This type of biryani is perfect for those who enjoy a rich and flavorful meal that is sure to please everyone at the table!
4) Malaysia - Nasi Kerabu
Nasi Kerabu is a unique type of biryani that originates from the northern states of Malaysia, such as Kelantan and Terengganu. This fragrant dish is made with blue rice, which gets its distinctive color from pandan leaves. This bright-hued rice is cooked in coconut milk and flavored with lemongrass, ginger, shallots, garlic, and other aromatic spices. The accompanying ingredients for this dish usually consist of fried fish or chicken, boiled eggs, and a variety of herbs, such as mint, cilantro, and dill. Other accompaniments may include pickled cucumbers and fried peanuts. All these components are served together to make a flavorful and colorful feast. Nasi Kerabu is best enjoyed with a hot chili sauce, so be sure to try some when you're in Malaysia!
5) Indonesia - Nasi Goreng
Nasi Goreng, which literally translates to "fried rice," is a popular Indonesian dish. It is made from pre-cooked white rice that is stir-fried in a wok with garlic, shallots, chili pepper, and other spices. In addition, it is often served with condiments such as achar (a type of pickle), sambal (a spicy chili paste), eggs, and sometimes chicken or prawns.
Nasi Goreng is a dish that is beloved throughout Indonesia, as well as by visitors who come to the country. It is usually eaten for breakfast or as a snack and can be found in almost every restaurant or street food stall in Indonesia. It's also a favorite at special events and family gatherings. The dish is highly customizable and can be made with a variety of different ingredients, depending on the cook's preference.
Nasi Goreng is an incredibly flavorful dish that is sure to please even the pickiest of eaters! With its rich spiciness and mix of textures, this traditional Indonesian dish will add a special touch to any meal.