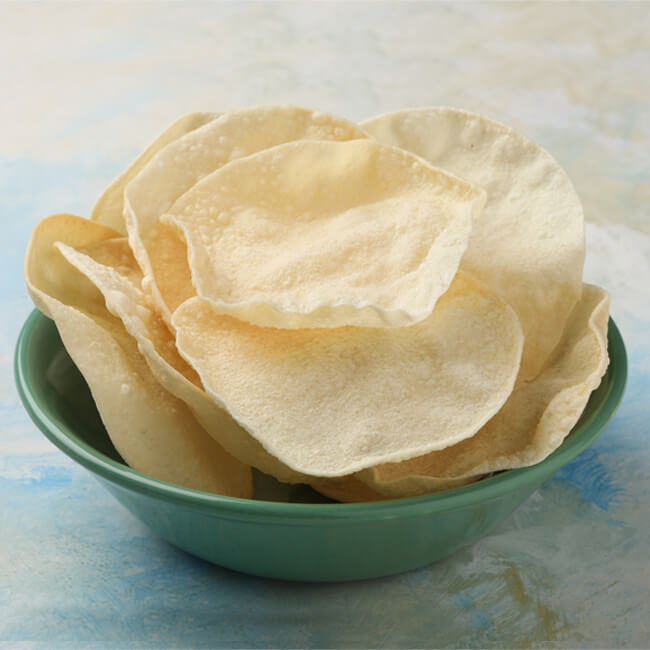 7 dishes to pair pappad with for enhanced taste.
aloo gobhi, aloo sabji, aloo tikki, amla, amla powder, asafoetida, Australia, baisakhi, baking, beautiful hair, beauty, beverages, biryani, Black beans, black pepper, Black-eyed peas, butter naan, camphor, cardamom, chaat, Chicken, Chicken 65, chicken tikka masala, Chickpeas, chilli, cinnamon, cloves, Cooking, copper jugs, coriander seeds, cumin, curry, Dal, dhokla, digestives, dosa, fast food, fasting, fenugreek, Festival, garlic, ginger, gosht, Green peas, green tea, Groceries, Gulab Jamun, hair, hair care, hair colour, hair hacks, hair loss, haldi, haleem, Halwa, health, healthy living, heena, home, home decor, Home Food, honey, ice cream, idli, india, Indian Cuisines, indian dish, Indian Food, Indian Spices, indian street food, Indian Sweet, iron pan, italian food, jaggery, jalebi, jeera, jugs, kheer, Kidney beans, kitchen, kitchen hacks, lentils, lifestyle, Lima beans, makhana, makki ki roti, mango pickle, masala tea, mehendi, methi, millet, millet flour, MTR Foods, mustard seeds, mutton, natural digestives, Navratri, Navy beans, nihari, organic, pakistani dish, pakistani spices, pancakes, Paneer Makhani, pani puri, papad, pasta, Peanuts, pickle, pudding, Rakhi, Rakshabandhan, rava kesari, ready to eat, rice, saffron, sambar, samosa, Samosas, sarson ka saag, sauce, scalp, soup, soups, soups and sauces, south indian dish, Spices, star anise, steel utnesils, stew, street food, suji halwa, Sweet Dish, syrup, tea, tomato pickle, Toor Dal, turmeric, uttapam, water

15 Jun, 2023
In India, eating papad (also spelled as pappad or papadum) with food is a popular tradition and adds a crunchy and flavorful element to meals. Papad is a thin, crispy Indian wafer typically made from lentil, chickpea, rice, or potato flour. It is usually seasoned with various spices and can be roasted, deep-fried, or microwaved before consuming. Here are seven dishes with which you can enjoy papad:
Dal (Lentil Soup): Papad is commonly served with dal, a lentil soup or stew that is a staple in Indian cuisine. The crispy texture of the papad complements the soft and flavorful dal.

Rice: Papad goes well with plain rice or any rice dish, such as biryani or pulao. It adds a delightful crunch to the meal and enhances the overall taste.

Curry: Papad can be enjoyed with a variety of Indian curries, whether vegetarian or non-vegetarian. The combination of the rich and spicy curry with the crispy papad is a treat for the taste buds.

Subzi (Vegetable Dish): Papad is often paired with different vegetable dishes like aloo gobi (potato and cauliflower), baingan bharta (roasted eggplant), or bhindi masala (okra stir-fry). It adds a contrasting texture to the dish.

Chole (Chickpea Curry): Papad pairs well with chole, a spicy chickpea curry. The combination is commonly enjoyed in North Indian cuisine and offers a delightful mix of flavors and textures.

Raita: Raita is a yogurt-based side dish often seasoned with spices, herbs, and vegetables. Papad complements raita, adding a crispy element to the creamy and refreshing taste of the yogurt.

Pickles: Papad is a popular accompaniment to Indian pickles, such as mango pickle, lime pickle, or mixed vegetable pickle. The tangy and spicy flavors of the pickle go hand in hand with the crispy papad.
These are just a few examples, and there are many more dishes with which you can enjoy papad in India. The versatility of papad makes it a beloved addition to meals across various regional cuisines in the country.