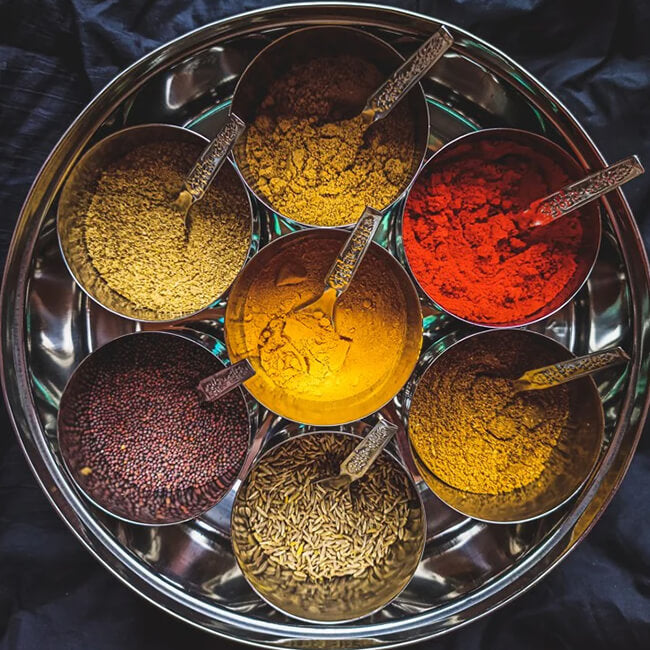 Top 6 Spices for Your Traditional Indian Spice Box
aloo gobhi, aloo sabji, aloo tikki, amla, amla powder, asafoetida, Australia, baisakhi, baking, beautiful hair, beauty, beverages, biryani, Black beans, black pepper, Black-eyed peas, butter naan, camphor, cardamom, chaat, Chicken, Chicken 65, chicken tikka masala, Chickpeas, chilli, cinnamon, cloves, Cooking, copper jugs, coriander seeds, cumin, curry, Dal, dhokla, digestives, dosa, fast food, fasting, fenugreek, Festival, garlic, ginger, gosht, Green peas, green tea, Groceries, Gulab Jamun, hair, hair care, hair colour, hair hacks, hair loss, haldi, haleem, Halwa, health, healthy living, heena, home, home decor, Home Food, honey, ice cream, idli, india, Indian Cuisines, indian dish, Indian Food, Indian Spices, indian street food, Indian Sweet, iron pan, italian food, jaggery, jalebi, jeera, jugs, kheer, Kidney beans, kitchen, kitchen hacks, lentils, lifestyle, Lima beans, makhana, makki ki roti, mango pickle, masala tea, mehendi, methi, millet, millet flour, MTR Foods, mustard seeds, mutton, natural digestives, Navratri, Navy beans, nihari, organic, pakistani dish, pakistani spices, pancakes, Paneer Makhani, pani puri, papad, pasta, Peanuts, pickle, pudding, Rakhi, Rakshabandhan, rava kesari, ready to eat, rice, saffron, sambar, samosa, Samosas, sarson ka saag, sauce, scalp, soup, soups, soups and sauces, south indian dish, Spices, steel utnesils, stew, street food, Sweet Dish, syrup, tea, tomato pickle, Toor Dal, turmeric, uttapam, water

13 Aug, 2022
The traditional Indian spice box in most homes will have cumin seeds, turmeric powder, red chili powder, and other popular spices that are used daily in Indian cooking. It's great to have these spices on hand because they can be combined to make new dishes or add another layer of flavor to already existing recipes. However, as you grow your collection of spices, it can become difficult to choose what goes into your spice box every time you go shopping. To help with this decision, here are our top 6 spices for your traditional Indian spice box. The wide range of Indian spices can be easily shopped from India At Home. 
1. Red Chilli Powder
Red chili powder is the most important spice in an Indian spice box. It adds flavor and heat to dishes. It is made from dried red chillies that are ground into powder. The powder can be mild, medium, or hot, depending on the type of chili used. Red chili powder is used in many different dishes, such as curries, masalas, and chutneys. 
2. Cumin Seeds
Cumin seeds are an essential ingredient in many Indian dishes. They have a warm, earthy flavor and can be used to make curry powder, garam masala, and other spice blends. Cumin seeds can also be used to flavor rice, stews, and soups. To use cumin seeds, toast them in a dry pan over medium heat until they become fragrant. Then, add them to your dish. 
3. Coriander Powder
Coriander powder is a key ingredient in many traditional Indian dishes. Coriander powder has an earthy and warm flavor which can be used in sweets and savory dishes. Coriander powder is made from ground coriander seeds and is a staple in many Indian households. To make your own coriander powder, simply roast some coriander seeds in a pan until they are fragrant, then grind them up in a coffee grinder or mortar and pestle. 
4. Mustard Seeds
These tiny seeds are used in a variety of Indian dishes and have a sharp, pungent flavor. They can be used whole or ground, and are a key ingredient in many spice blends. To use mustard seeds, dry roast them in a pan until they pop, then add them to your dish. 
5. Turmeric Powder
Turmeric powder is the key ingredient of most Indian dishes. It has a warm, earthy flavor and can be used to add color to food. Turmeric is also known for its medicinal properties and can be used to treat inflammatory conditions. When purchasing turmeric powder, look for a brand that is organic and has a high curcumin content. 
6. Bay Leaves
Bay leaves are a common ingredient in Indian cuisine. They are often used to flavor curries and rice dishes. Bay leaves come in both forms - fresh or dried. When using fresh bay leaves, be sure to remove them before eating, as they can be tough to chew. One can find Dried bay leaves in most grocery stores.