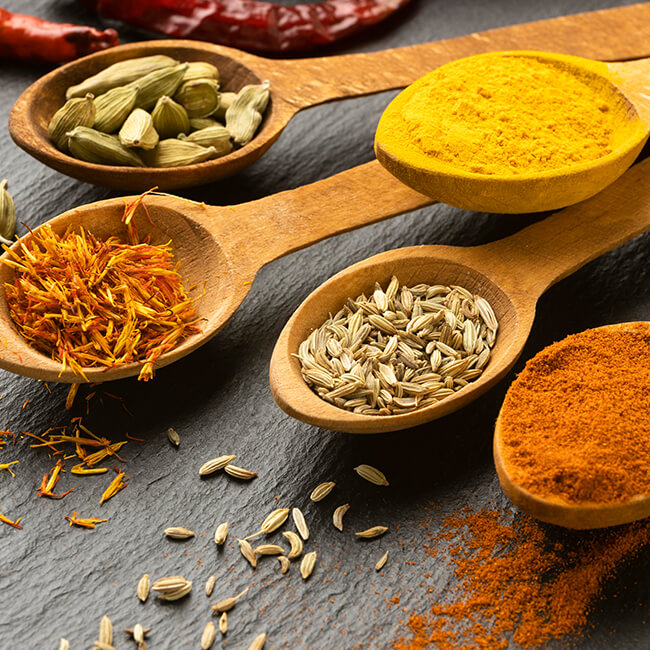 Top 7 Indian Spices and Their Surprising Health Benefits
aloo gobhi, aloo sabji, aloo tikki, amla, amla powder, asafoetida, Australia, baisakhi, baking, beautiful hair, beauty, beverages, biryani, Black beans, black pepper, Black-eyed peas, butter naan, camphor, cardamom, chaat, Chicken, Chicken 65, chicken tikka masala, Chickpeas, chilli, cinnamon, cloves, Cooking, copper jugs, coriander seeds, cumin, curry, Dal, dhokla, digestives, dosa, fast food, fasting, fenugreek, Festival, garlic, ginger, gosht, Green peas, green tea, Groceries, Gulab Jamun, hair, hair care, hair colour, hair hacks, hair loss, haldi, haleem, Halwa, health, healthy living, heena, home, home decor, Home Food, honey, ice cream, idli, india, Indian Cuisines, indian dish, Indian Food, Indian Spices, indian street food, Indian Sweet, iron pan, italian food, jaggery, jalebi, jeera, jugs, kheer, Kidney beans, kitchen, kitchen hacks, lentils, lifestyle, Lima beans, makhana, makki ki roti, mango pickle, masala tea, mehendi, methi, millet, millet flour, MTR Foods, mustard seeds, mutton, natural digestives, Navratri, Navy beans, nihari, organic, pakistani dish, pakistani spices, pancakes, Paneer Makhani, pani puri, papad, pasta, Peanuts, pickle, pudding, Rakhi, Rakshabandhan, rava kesari, ready to eat, rice, saffron, sambar, samosa, Samosas, sarson ka saag, sauce, scalp, soup, soups, soups and sauces, south indian dish, Spices, star anise, steel utnesils, stew, street food, suji halwa, Sweet Dish, syrup, tea, tomato pickle, Toor Dal, turmeric, uttapam, water

08 Nov, 2022
The Indian subcontinent has some of the most diverse and delectable cuisines in the world, from the rich curries to the fragrant rice dishes to the aromatic spice blends and pastes that can be found all over the region, India's food culture is one of its greatest cultural treasures. Many people enjoy cooking with Indian spices and flavorings because they add an intense depth of flavor to meals, but did you know that there are also health benefits associated with many Indian spices? Here are seven popular Indian spices and their surprising health benefits!
1) Cardamom
Cardamom is a spice known for its earthy, sweet aroma. This spice has a unique flavor that can't be replicated by any other spice, which makes it ideal for dishes like chai tea or gingerbread. Cardamom is also one of the healthiest spices around. One cardamom pod contains antioxidants and anti-inflammatory compounds, which can help protect your cells from damage.
2) Cloves
Cloves are a key ingredient in curry powder. They are also used to make kombucha, as an antiseptic, and for dental care. In Ayurveda, cloves are used to treat toothaches and gum disease. The tree from which the spice comes is called Syzygium aromaticum or the clove tree. Cloves are what give gingerbread its distinctive flavor!
3) Cumin
Cumin has an earthy flavor and is commonly used in curries. It is a rich source of iron, calcium, potassium, magnesium, zinc, vitamin B1 (thiamine), vitamin B6 (pyridoxine), and other vitamins. It also contains omega-3 fatty acids that help lower cholesterol levels. Cumin can be used to help regulate blood sugar levels by improving insulin sensitivity in people with type 2 diabetes.
4) Fenugreek
Fenugreek is a type of seed that can be used in both savory dishes, such as curries, or sweet dishes, like halvah. Fenugreek seeds are a common cooking spice in India, used to add flavor to the dish. The leaves of the fenugreek plant have also been used for their medicinal properties for centuries.
5) Ginger
Ginger is one of the most important spices in Indian cuisine, prized for its flavor and health benefits. Ginger is native to China, India, Japan, Indonesia, Malaysia, and other Southeast Asian countries. It grows mostly in tropical climates with high humidity. Fresh ginger has a peppery taste that mellows on cooking. The rhizome (underground stem) is used medicinally or as a spice or flavoring agent.
6) Turmeric
Turmeric is an ancient spice that has been used in traditional Chinese and Ayurvedic medicine for its anti-inflammatory, antibacterial, antifungal, antiviral, and cancer-fighting properties. Turmeric is a powerful antioxidant that can help prevent DNA damage. It's also a natural blood thinner which makes it useful for people with high blood pressure. In Ayurveda, turmeric root is used to relieve pain from menstrual cramps or arthritis.
7) Black Pepper
Black pepper is a spice that is commonly used in cooking. It has been used for centuries as a medicine, as well as an important ingredient in many dishes. Black pepper can be found in the form of whole peppercorns, ground black pepper, or even whole black peppercorns.