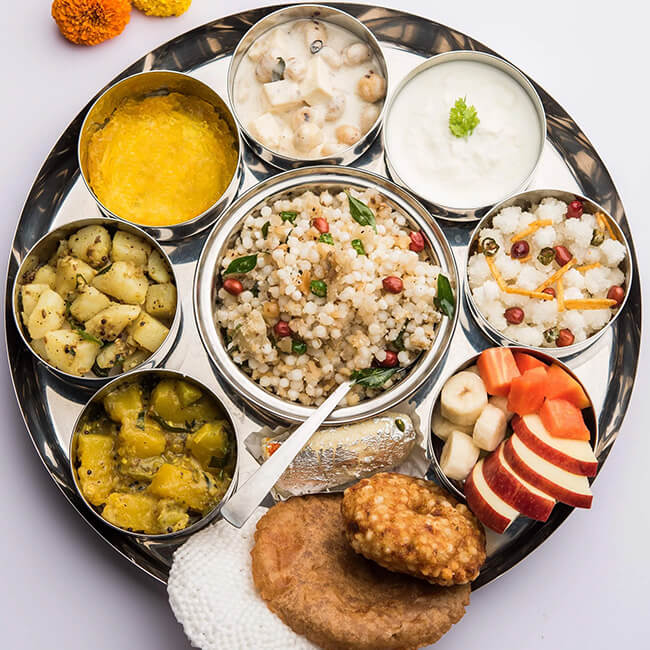 Delicious Navratri Foods to Keep You Going for Nine Nights
aloo gobhi, aloo sabji, aloo tikki, amla, amla powder, asafoetida, Australia, baisakhi, baking, beautiful hair, beauty, beverages, biryani, Black beans, black pepper, Black-eyed peas, butter naan, camphor, cardamom, chaat, Chicken, Chicken 65, chicken tikka masala, Chickpeas, chilli, cinnamon, cloves, Cooking, copper jugs, coriander seeds, cumin, curry, Dal, dhokla, digestives, dosa, fast food, fasting, fenugreek, Festival, garlic, ginger, gosht, Green peas, green tea, Groceries, Gulab Jamun, hair, hair care, hair colour, hair hacks, hair loss, haldi, haleem, Halwa, health, healthy living, heena, home, home decor, Home Food, honey, ice cream, idli, india, Indian Cuisines, indian dish, Indian Food, Indian Spices, indian street food, Indian Sweet, iron pan, italian food, jaggery, jalebi, jeera, jugs, kheer, Kidney beans, kitchen, kitchen hacks, lentils, lifestyle, Lima beans, makhana, makki ki roti, mango pickle, masala tea, mehendi, methi, millet, millet flour, MTR Foods, mustard seeds, mutton, natural digestives, Navratri, Navy beans, nihari, organic, pakistani dish, pakistani spices, pancakes, Paneer Makhani, pani puri, papad, pasta, Peanuts, pickle, pudding, Rakhi, Rakshabandhan, rava kesari, ready to eat, rice, saffron, sambar, samosa, Samosas, sarson ka saag, sauce, scalp, soup, soups, soups and sauces, south indian dish, Spices, star anise, steel utnesils, stew, street food, suji halwa, Sweet Dish, syrup, tea, tomato pickle, Toor Dal, turmeric, uttapam, water

22 Sep, 2022
Navratri, or the nine nights of worship of Hindu Goddess Durga, begins on September 26 this year and will continue until October 5. During this time, people abstain from all non-vegetarian foods and eat only vegetarian meals. The Navratri diet is rich in vegetables, lentils, and fruits and includes various sweets made with jaggery (unrefined cane sugar). This makes the Navratri fast extremely healthy since these foods are considered to be cleansing to the body, which makes it easier to cope with fasting during the event.
1. Kuttu Ke Atte Ki Puri
This year, add the traditional Kuttu Ke Atte Ki Puri to your menu. These deep-fried flatbreads are easy to make and taste heavenly with any side dish or topping of your choice.
To prepare this delicious Puri, take 2 cups of Kuttu Ka Atta in a bowl and add salt. Gradually add enough water into the mixture so that it forms a doughy consistency without any lumps. Then knead the dough well until you get an elastic texture and divide it into small portions. Add some oil to the chakla and make small puris with belan. Fry it in oil or ghee.
2. Aloo Ki Subzi
As one of the more popular dishes in India, Aloo Ki Subzi is served throughout the country. It is made with small potatoes which are boiled, peeled, and then ground into a mash. The final product is seasoned with spices such as salt and green chilies, as well as ginger paste, and turmeric powder. Then, it is cooked until tender on medium heat and garnished with freshly chopped coriander.
3. Dahi Wada
For this spicy Indian street snack, I deep-fried donuts dunked in hot oil and then iced with a mouth-puckering chutney. One dish will be enough to get you through the entire day! For a more authentic experience, try using whole urad dal (split skinless black lentils) and rice flour instead of regular wheat flour to make the batter doughy. You can also add a few methi leaves (fresh or dried), which gives the wadas an earthier flavor. Serve them up as chaat on top of some chopped tomatoes mixed with lemon juice, chili powder, and salt; or topped off with some sev (crispy chickpea noodles).
4. Mango Shrikhand
Here's a recipe for an Indian dish, shrikhand, made from thick yogurt that is flavored with cardamom and saffron. Sweetened condensed milk and mango purée are added to the mix for a refreshing sweet-savory dessert. It can be eaten as it is or served on top of ice cream. Shrikhand tastes best when it is served fresh so make this one day in advance if you're not eating it immediately after preparation.
5. Badam Halwa
The recipe requires 3 cups of heavy cream and 2 1/2 cups of white granulated sugar. Heat the cream until boiling and then gradually add in the sugar while constantly stirring until it's fully mixed. Add one teaspoon each of saffron, cardamom, and rosewater. Simmer for about an hour over low heat. Let cool before serving with pistachios, almonds, or cashews on top. Enjoy this rich sweet dessert with a cup of your favorite Indian tea.