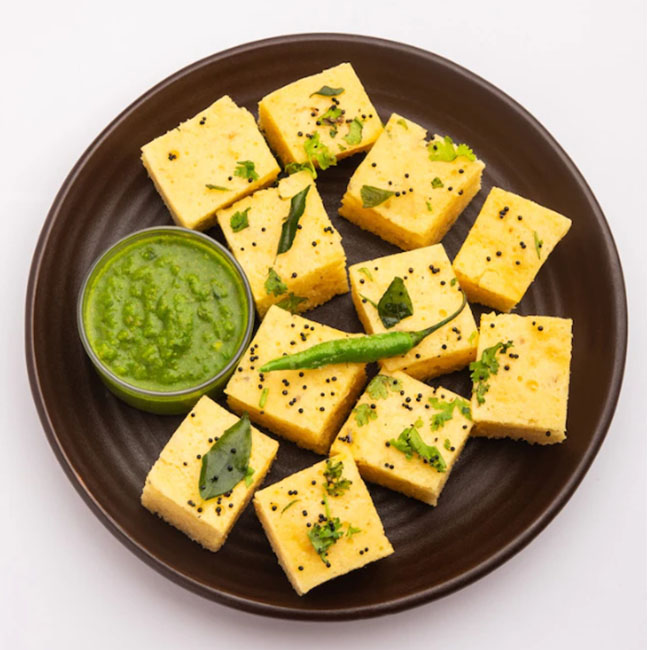 How eating Dhokla can help you lose weight?
aloo gobhi, aloo sabji, aloo tikki, amla, amla powder, asafoetida, Australia, baisakhi, baking, beautiful hair, beauty, beverages, biryani, Black beans, black pepper, Black-eyed peas, butter naan, camphor, cardamom, chaat, Chicken, Chicken 65, chicken tikka masala, Chickpeas, chilli, cinnamon, cloves, Cooking, copper jugs, coriander seeds, cumin, curry, Dal, dhokla, digestives, dosa, fast food, fasting, fenugreek, Festival, garlic, ginger, gosht, Green peas, green tea, Groceries, Gulab Jamun, hair, hair care, hair colour, hair hacks, hair loss, haldi, haleem, Halwa, health, healthy living, heena, home, home decor, Home Food, honey, ice cream, idli, india, Indian Cuisines, indian dish, Indian Food, Indian Spices, indian street food, Indian Sweet, iron pan, italian food, jaggery, jalebi, jeera, jugs, kheer, Kidney beans, kitchen, kitchen hacks, lentils, lifestyle, Lima beans, makhana, makki ki roti, mango pickle, masala tea, mehendi, methi, millet, millet flour, MTR Foods, mustard seeds, mutton, natural digestives, Navratri, Navy beans, nihari, organic, pakistani dish, pakistani spices, pancakes, Paneer Makhani, pani puri, papad, pasta, Peanuts, pickle, pudding, Rakhi, Rakshabandhan, rava kesari, ready to eat, rice, saffron, sambar, samosa, Samosas, sarson ka saag, sauce, scalp, soup, soups, soups and sauces, south indian dish, Spices, star anise, steel utnesils, stew, street food, suji halwa, Sweet Dish, syrup, tea, tomato pickle, Toor Dal, turmeric, uttapam, water

20 Dec, 2022
Are you looking for an easy, tasty way to lose weight? If so, then you should consider adding dhokla to your diet. Dhokla is a popular snack from the western Indian state of Gujarat and is made from a fermented batter of rice and chickpeas. It is low in fat and calories, but high in protein and fiber, which makes it an ideal food for weight loss. In this blog post, we will explore how eating dhokla can help you lose weight and why it's a great snack for those trying to shed some pounds.
What is Dhokla?
Dhokla is a traditional Gujarati dish originating from the state of Gujarat in western India. It is a steamed, savory cake made with a mixture of lentils, rice, and spices. It can be served as a snack or main course. Dhokla is usually served with chutney or other accompaniments such as coriander leaves, sev, pomegranate seeds, or grated coconut. The dish can also be eaten with pickles. Dhokla is high in protein, low in fat and cholesterol, and contains dietary fiber. This makes it an excellent choice for people trying to lose weight. It is also a great source of vitamins and minerals, making it a nutritious snack or meal.
The benefits of eating Dhokla
Dhokla is a traditional Indian snack that is incredibly healthy. It is made from a fermented batter of rice and split chickpeas. The fermentation process helps to make the food easier to digest, and gives it a light and fluffy texture.

Dhokla is low in calories and high in fiber. Eating Dhokla can help you to feel fuller for longer, making it an ideal snack for weight loss. Additionally, the fermented batter used to make Dhokla contains probiotics, which are beneficial bacteria that can help improve your gut health.

Dhokla is also rich in vitamins and minerals, such as magnesium, potassium, phosphorus, iron, vitamin B6, and zinc. Eating Dhokla can help you get the essential nutrients your body needs without adding extra calories or fat.

Furthermore, Dhokla is easy to prepare and can be eaten as a snack or a side dish. It is also gluten-free, and vegan, and can easily be made in bulk so you can eat it throughout the week. All these benefits make Dhokla an excellent choice for anyone looking to lose weight and maintain a healthy lifestyle.
How Dhokla can help you lose weight
When it comes to losing weight, many people turn to diet or intensive exercise regimens. But did you know that simply changing up your diet could help you in your weight loss journey? One food that is particularly beneficial for aiding in weight loss is dhokla – a savory snack made of fermented rice and lentils.
Dhokla is packed with protein, fiber, and other healthy nutrients, all of which contribute to a lower calorie intake and a greater feeling of fullness. Not only that, but this savory snack also contains fewer calories than many other traditional snacks like potato chips or cookies. As a result, swapping out unhealthy snacks for dhokla can help you save on calories, leading to an overall decrease in body weight.
But dhokla isn't just great for weight loss – it's also incredibly easy to make. All you need are some basic ingredients like split Bengal gram, split black lentils, rice flour, and yogurt. After soaking the lentils and grams overnight, mix them with the rice flour and yogurt before steaming for about 10 minutes. When finished, you'll have a delicious snack perfect for any time of day.
So if you're looking for a tasty way to shed those extra pounds, look no further than dhokla. Not only is this traditional snack delicious and easy to make, but it's also extremely beneficial for weight loss due to its high protein and fiber content. Start incorporating dhokla into your diet today and watch the pounds melt away!