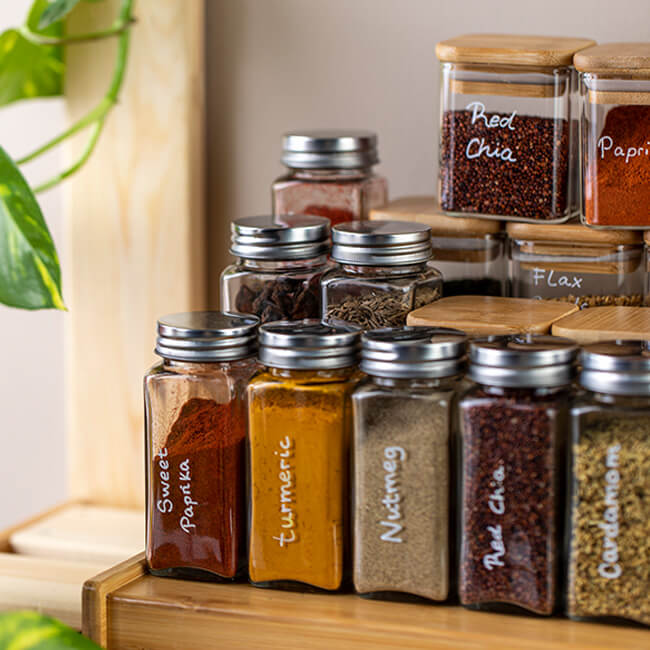 The Spice Must Flow: 5 Tips to Store Your Spices and Keep Them Fresh
aloo gobhi, aloo sabji, aloo tikki, amla, amla powder, asafoetida, Australia, baisakhi, baking, beautiful hair, beauty, beverages, biryani, Black beans, black pepper, Black-eyed peas, butter naan, camphor, cardamom, chaat, Chicken, Chicken 65, chicken tikka masala, Chickpeas, chilli, cinnamon, cloves, Cooking, copper jugs, coriander seeds, cumin, curry, Dal, dhokla, digestives, dosa, fast food, fasting, fenugreek, Festival, garlic, ginger, gosht, Green peas, green tea, Groceries, Gulab Jamun, hair, hair care, hair colour, hair hacks, hair loss, haldi, haleem, Halwa, health, healthy living, heena, home, home decor, Home Food, honey, ice cream, idli, india, Indian Cuisines, indian dish, Indian Food, Indian Spices, indian street food, Indian Sweet, iron pan, italian food, jaggery, jalebi, jeera, jugs, kheer, Kidney beans, kitchen, kitchen hacks, lentils, lifestyle, Lima beans, makhana, makki ki roti, mango pickle, masala tea, mehendi, methi, millet, millet flour, MTR Foods, mustard seeds, mutton, natural digestives, Navratri, Navy beans, nihari, organic, pakistani dish, pakistani spices, pancakes, Paneer Makhani, pani puri, papad, pasta, Peanuts, pickle, pudding, Rakhi, Rakshabandhan, rava kesari, ready to eat, rice, saffron, sambar, samosa, Samosas, sarson ka saag, sauce, scalp, soup, soups, soups and sauces, south indian dish, Spices, star anise, steel utnesils, stew, street food, suji halwa, Sweet Dish, syrup, tea, tomato pickle, Toor Dal, turmeric, uttapam, water

19 Feb, 2023
Do you find yourself constantly restocking your spice rack? Tired of buying the same spices over and over because they lose their flavor and freshness quickly? Don't worry, you're not alone! There are simple ways to store your spices so that they retain their flavor and last longer. In this blog post, we'll discuss five tips to help you store your spices and keep them fresh for longer. With these tips, you'll be able to get the most out of your spices and save money in the long run. Read on to learn the secrets of the Spice Must Flow!
1) Keep them away from light
When storing your spices, it is important to keep them away from light. Light can cause spices to lose their potency over time and can cause them to spoil faster. To ensure that your spices stay as fresh as possible for as long as possible, store them in a dark, cool cupboard or drawer. If you don't have these available, invest in an opaque container or spice rack that will help protect your spices from light exposure. You should also avoid storing your spices near a window or in any area where sunlight could come into contact with them.
2) Keep them away from moisture
One of the best ways to keep your spices fresh is to make sure they are kept away from moisture. Humidity and moisture can make your spices lose their flavor quickly, so it's important to keep them as dry as possible.
When you buy spices, check the packaging and expiration date. If the package looks old or there is a lot of moisture present, don't buy it. Additionally, try to avoid buying spices in bulk or large quantities if you don't plan on using them right away, as they may go bad quickly.
If you plan on storing your spices long-term, put them in an airtight container or glass jar and store them in a cool, dry place like a cabinet or pantry. Make sure the container has a tight-fitting lid, so moisture and air can't get in. You can also place a few silica gel packets inside the container to help keep the moisture out.
Finally, don't forget to store your spices in a place where they won't be exposed to too much heat. The high temperature will cause your spices to become dry and lose their flavor quickly.
3) Store them in airtight containers
Using airtight containers is the best way to store your spices and keep them fresh. By using airtight containers, you can keep the spices away from light, moisture, and heat. This ensures that the quality of your spices is not affected over time.
When choosing airtight containers, make sure to select containers that are specifically designed for storing spices. This will ensure that the container is leak-proof and will keep out any moisture or air. You can find these containers in most home goods stores or online. Make sure to check the seal before buying to make sure that it's truly airtight.
It's also important to pay attention to the size of the container. If you are using a smaller container than what the spice was originally packaged in, make sure to transfer it into an appropriately sized container to prevent overfilling. Overfilling your containers can lead to spilling and clumping of the spices.
Finally, always label your containers clearly with the name and date of purchase. This will help you remember which spices are older and should be used up first. Labeling is also helpful when looking for a particular spice as you can easily find what you're looking for.
By following these tips, you'll be able to store your spices in airtight containers and keep them fresh for much longer.
4) Don't store them near the stove
When storing your spices, it's important to keep them away from any sources of heat. This means that you should avoid storing them near the stove, oven, or other cooking appliances. Heat can cause the volatile compounds in your spices to break down and lose flavor faster, leading to a less enjoyable cooking experience. Instead, store your spices in a cool, dry place away from sources of heat. Make sure to keep them in airtight containers as well to help preserve their flavors for longer.
5) Use them within 6 months
Spices lose their potency over time and should be replaced every 6 months for optimal flavor. To ensure the freshest flavors, make a habit of keeping track of when you buy new spices, and make sure to replace them at least every 6 months.
If your spices are in glass containers with airtight lids, you can use the "sniff test" to tell if they need to be replaced. If the aroma is weak or non-existent, it's time to replace them. If you can't remember when you bought them, consider labeling the containers with the date they were purchased, so you can easily keep track of when it's time to purchase new spices.