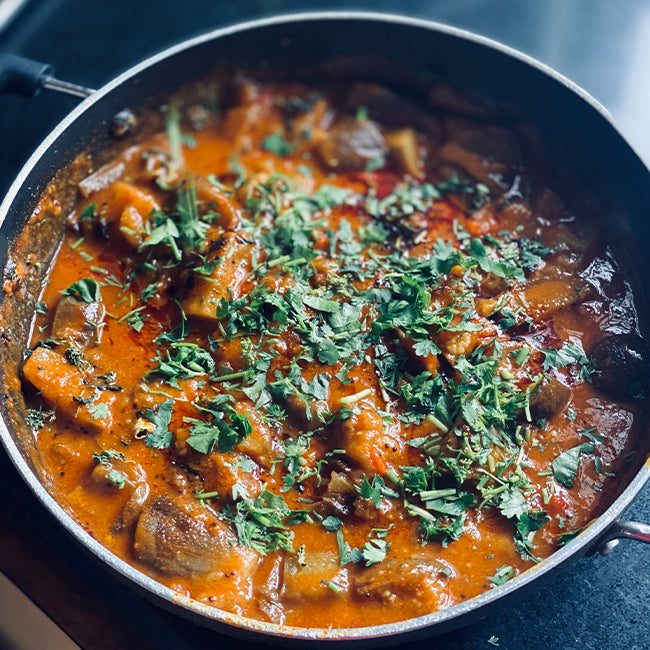 Eggplant Curry
aloo gobhi, aloo sabji, asafoetida, Australia, baisakhi, baking, black pepper, bread, bread pakora, burgers, butter naan, cake, cardamom, chaat, Chicken, Chicken Vindaloo, Chickpeas, chilli, christmas, cinnamon, cloves, cookies, Cooking, coriander seeds, cumin, Curry, cutlet, Dal, digestives, egg, egg cutlet, Eggplant, fast food, fasting, fenugreek, Festival, food, Gajar Halwa, garlic, ginger, ginger bread, Green peas, Groceries, haldi, Halwa, health, healthy living, home, Home Food, idli, india, Indian Cuisines, indian dish, Indian Food, Indian Spices, indian street food, Indian Sweet, italian food, jaggery, jalebi, jeera, kalakand, khakara, kheer, kitchen, kitchen hacks, laddoo, ladoo, lamb, lifestyle, makhana, matar paneer, medu vada, natural digestives, Navratri, organic, pakistani dish, pakistani spices, palak paneer, paneer, pasta, Pav Bhaji, potato, pudding, rajma, ready to eat, red sauce pasta, rogan josh, sabudana, saffron, sambar, soup, soups, soups and sauces, south indian dish, Spices, street food, suji halwa, Sweet Dish, turmeric, uttapam, vacations, vada

22 Sep, 2022
Ingredients:
250 gms Eggplants, diced into pieces

2 medium Onions, sliced thinly

2 medium Tomatoes, diced into pieces

2-3 green Chilies, finely chopped

¼ tsp Mustard Seeds

½ tsp Cumin Seeds

1 spring Curry Leaves

2 tsp Oil

1 tsp ginger-garlic paste

1 tsp Red Chili Powder

1 tsp Garam Masala

½ tsp Turmeric Powder

¼ cup Coconut Milk

1 tsp Coriander, chopped for garnish

Salt as per taste
Steps to prepare Eggplant Curry:
Heat 2 tsp of oil in a deep-pan pot. Add ¼ tsp of mustard seeds and ½ tsp of cumin seeds. When they begin to splutter, add 1 spring of fresh or dried curry leaves. Mix it well and fry it for a minute.

Add sliced onions and sauté until it's golden brown and slightly translucent.

Now add 1 tsp of ginger garlic paste and sauté it nicely until the raw smell goes away.

Add chopped tomatoes and sprinkle ¼ tsp salt. Fry it nicely for a couple of minutes. Covered it until the tomatoes turn mushy.

Add 1tsp chili powder, 1tsp garam masala, and ½ turmeric. Stir it.

Once the delectable aroma of spices starts coming, add the diced eggplant or brinjal to the mix.

Sauté them for 3-4 minutes on medium heat.

Add half a cup of water to the mix.

Cover it with the lid and let it cook on low flame for 10-15 minutes. When the eggplant is cooked, you'll see the skin turning loose. It turns soft and mushy too.

At this stage, taste the salt and if needed then add more.

Add ¼ cup thick coconut milk and cook for a couple of minutes for a rich and thick texture.

Sprinkle chopped coriander and serve it hot with lachha paratha, naan, roti, jeera rice, or steamed rice.