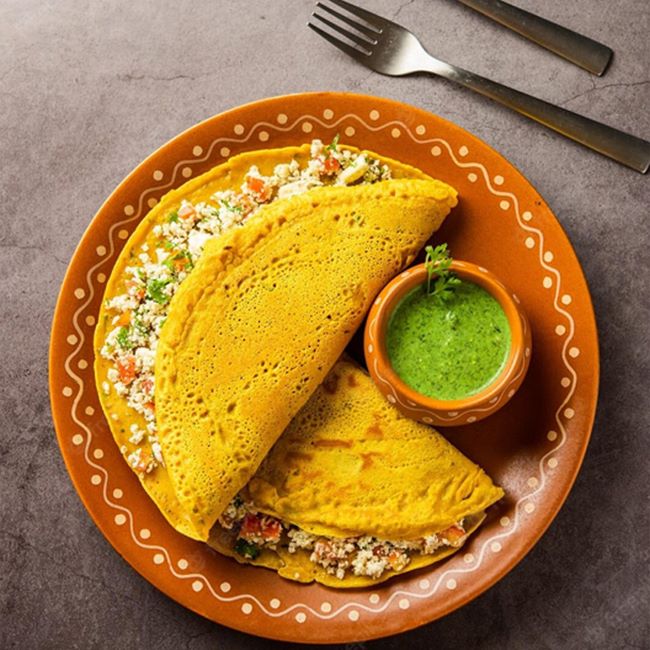 Panner Stuffed Besan Chilla
aloo gobhi, aloo sabji, asafoetida, Australia, baisakhi, baking, black pepper, bread pakora, burgers, butter naan, cake, cardamom, chaat, Chicken, Chicken Vindaloo, Chickpeas, chilli, cinnamon, cloves, Cooking, coriander seeds, cumin, Curry, cutlet, Dal, digestives, egg, egg cutlet, Eggplant, fast food, fasting, fenugreek, Festival, food, Gajar Halwa, garlic, ginger, Green peas, Groceries, haldi, Halwa, health, healthy living, home, Home Food, idli, india, Indian Cuisines, indian dish, Indian Food, Indian Spices, indian street food, Indian Sweet, italian food, jaggery, jalebi, jeera, kalakand, khakara, kheer, kitchen, kitchen hacks, laddoo, ladoo, lamb, lifestyle, makhana, matar paneer, medu vada, natural digestives, Navratri, organic, pakistani dish, pakistani spices, palak paneer, paneer, pasta, Pav Bhaji, potato, rajma, ready to eat, red sauce pasta, rogan josh, sabudana, saffron, sambar, soup, soups, soups and sauces, south indian dish, Spices, street food, suji halwa, Sweet Dish, turmeric, uttapam, vada

15 Jun, 2023
Ingredients:
1 cup besan (gram flour)
1/2 cup paneer (Indian cottage cheese), crumbled
1 small onion, finely chopped
1 small tomato, finely chopped
2-3 green chilies, finely chopped (adjust according to your preference)
2 tablespoons fresh coriander leaves, finely chopped
1/2 teaspoon cumin seeds
1/2 teaspoon turmeric powder
1/2 teaspoon red chili powder (adjust according to your taste)
Salt to taste
Water, as needed
Oil or ghee for cooking
Steps to prepare Paneer Stuffed Besan Chilla: 
Step 1: Prepare the Batter
In a mixing bowl, combine besan (gram flour), chopped onions, tomatoes, green chilies, coriander leaves, cumin seeds, turmeric powder, red chili powder, and salt. Mix well to combine. 
Step 2: Prepare Paneer Stuffing
In a separte bowl, mix crumbled paneer, chopped dhaniya, chopped green chilli, salt, black pepper and keep it aside. 
Step 3: Add Water and Mix
Gradually add water to the besan mixture while whisking continuously to make a smooth batter. The consistency of the batter should be similar to pancake batter. 
Step 4: Heat the Pan
Heat a non-stick or cast-iron skillet on medium heat. Drizzle some oil or ghee and spread it evenly on the pan.
Step 5: Pour the Batter
Pour a ladleful of the besan batter onto the center of the heated pan. Using the back of the ladle, gently spread the batter in a circular motion to form a thin pancake-like chilla. 
Step 6: Cook the Chilla
Drizzle a little oil or ghee around the edges of the chilla and let it cook on medium heat for a couple of minutes or until the bottom side turns golden brown. Flip the chilla and cook the other side until it's cooked through and lightly browned. Now, spread the panner stuffing on the chilla and fold it in half. Repeat the process for the remaining batter. 
Step 7: Serve
Transfer the cooked chilla to a serving plate. Garnish with additional chopped coriander leaves if desired. Cut the chilla into quarters or roll it up and serve hot with mint chutney, yogurt, or any dip of your choice.
Besan paneer chilla makes for a delicious and nutritious breakfast or snack. Enjoy!