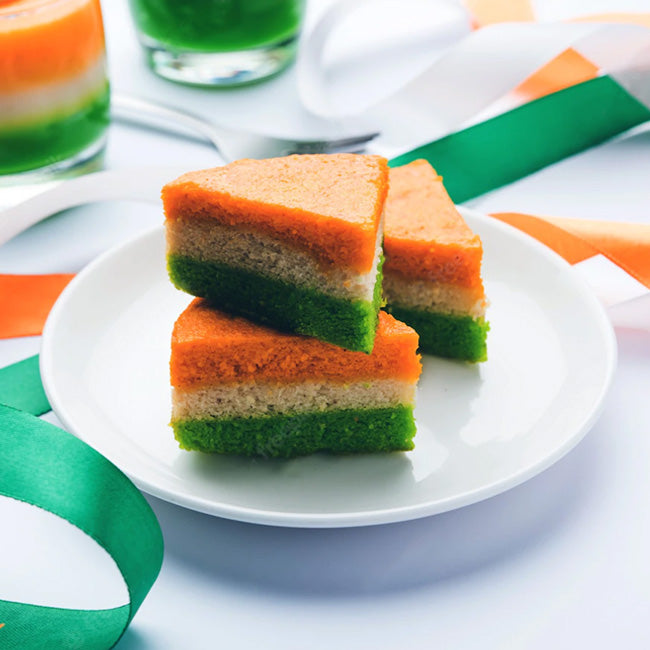 Tri Color Cake
aloo gobhi, aloo sabji, asafoetida, Australia, baisakhi, baking, black pepper, bread, bread pakora, burgers, butter naan, cake, cardamom, chaat, Chicken, Chicken Vindaloo, Chickpeas, chilli, christmas, cinnamon, cloves, cookies, Cooking, coriander seeds, cumin, Curry, cutlet, Dal, digestives, egg, egg cutlet, Eggplant, fast food, fasting, fenugreek, Festival, food, Gajar Halwa, garlic, ginger, ginger bread, Green peas, Groceries, haldi, Halwa, health, healthy living, home, Home Food, idli, india, Indian Cuisines, indian dish, Indian Food, Indian Spices, indian street food, Indian Sweet, italian food, jaggery, jalebi, jeera, kalakand, khakara, kheer, kitchen, kitchen hacks, laddoo, ladoo, lamb, lifestyle, makhana, matar paneer, medu vada, natural digestives, Navratri, organic, pakistani dish, pakistani spices, palak paneer, paneer, pasta, Pav Bhaji, potato, pudding, rajma, ready to eat, red sauce pasta, rogan josh, sabudana, saffron, sambar, soup, soups, soups and sauces, south indian dish, Spices, street food, suji halwa, Sweet Dish, turmeric, uttapam, vacations, vada

17 Jan, 2023
Ingredients:
3 cups of All Purpose Flour Or Maida
2 tsp of Baking Soda for every batter cup
2 tsp of Baking Powder for every batter cup
5 tsp of Milk Powder
1 cup of Curd diluted with 1 tsp of water
2 cups of Milk
2 cups of Icing Sugar Powder
1 Cup of Melted Butter
Steps to prepare Tricolour Cake: 
Take a bowl and put all-purpose flour/maida in it.
Now add baking soda and powder into it.
Then add milk powder and mix all the dry ingredients.
Take another bowl and mix butter & sugar in it (preferably with a beater), till it gets soft.
Now add curd and mix well.
Now add dry ingredients to the mixture. Add it slowly and keep mixing so that you can avoid lumps and bubbles.
Now add milk and mix it well. Slowly beat the mixture till it gets fluffy.
Now divide the cake batter into three equal bowls.
In one bowl add orange colour, in another bowl adds green colour. Mix well. Leave one bowl without adding any colour.
Now three colours of batter are ready.
Now take a cake bowl, grease it well, sprinkle some flour on it and put the orange batter.
Put the mould with orange batter into the preheated oven at 150 degrees for 5 mins.
Once it settles down, take the mould out and put the white batter over it.
Again put the mould into the oven and bake for 5 mins.
Then again take the mould out and put the green batter over the double layer of cake.
Bake the cake for 20 mins or until the cake is done. Check it with the toothpick.
Let the cake cool down. Now, un-mould the cake upside down, so that you can get a Tricolour cake.